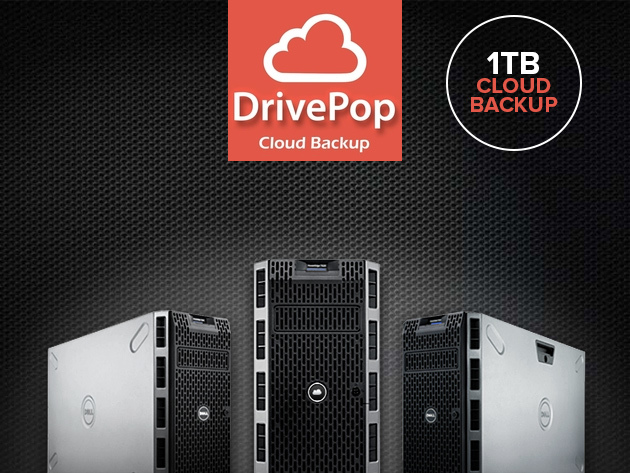 DrivePop: 1 TB of Cloud Backup Accessible Everywhere - Lifetime License
Sold Out
$94.00 CAD
$1,079.00 CAD
by DrivePop
Peace of Mind For Your Digital Property: Back Up All Your Files & View Them On Computers, Smartphones & Tablets
Description
PROTECT YOURSELF FROM DATA DESTRUCTION
Please note: Due to HIGH demand this promotion will end July 15, 2014. Look for DrivePop to come back to StackSocial in the Fall of 2014. Subscription for new DrivePop users only.
Maybe you've experienced it firsthand, or maybe you've heard a
horror story
from a friend, but make no mistake – hard
drive failure
is real, and it can happen to you. Don't let disaster strike,
protect your
files, photos, music, and more with fast, reliable
online backup
from DrivePop.
WHAT IS ONLINE BACKUP?
- Using the cloud, the service automatically makes back ups of all your files, and keeps a mirrored copy safely online. You can retrieve and restore your files through the DrivePop web portal if they're ever lost or damaged on your hard drive, you just need an internet connection. It's easy to setup and completely secure, using reliable, military-grade data centers. The Servers keep up to 30 versions of files uploaded to the servers so you can revert to a previous version if you made an incorrect change to a file and saved over the original.
DrivePop will also keep any deleted files for 30 days to allow for recovery in the case of accidental deletion.
IS THIS CLOUD STORAGE?
- Online Backup is different than a cloud storage service like Dropbox or Google Drive. With cloud storage, you can upload and save files online without saving a copy on your computer. With Online Backup, you must hold an original copy – at all times – of the file on the computer it was backed up from. If you delete files from your computer that have been backed up, DrivePop will remove the corresponding backup from their servers, but they will keep the most recent version of your deleted files for 30 days, so you'll always be able to get your files back.
WHY YOU'LL LOVE IT
It's the
ultimate peace of mind
for your digital life, so you'll never need to worry if you accidentally delete a file or your HD fails. Add to that the ability to access photos and documents from any
browser, smartphone, or tablet
, and
stream videos/music
from any device that supports the DrivePop app, and it's more than just online backup, it's portable entertainment whenever you need it.
TOP FEATURES
DrivePop Lifetime Account with 1 TB of Cloud Backup - Plenty of backup space for you and your family (unlimited space upgrade available if needed)
Automatic Backups - Runs silently in the background, backing up and uploading your data 100% automatically to the cloud
Worldwide Cloud - Back up from anywhere in the world with no bandwidth restrictions
Military-Grade Security - All files are transferred and stored using 256 AES encryption
Streaming Media - Upload your photos, music, and videos and view them anywhere on any device
THE PROOF
"In short, this high-quality service provides a reliable form of backup. You can easily retrieve any data that gets corrupted or accidentally deleted, granting you true peace of mind." -
tapscape
"The app seems to work smoothly, and setup was incredibly simple." -
ghacks.net
WHAT YOU'LL NEED
Mac OS X 10.6 and higher OR Windows XP, Vista, 7/8/8.1
View files on iOS, Android, Kindle Fire, Chrome OS, Windows RT/8.1, and Blackberry devices
Free App for iOS, Android, and Windows 8
LICENSE DETAILS
How many computers can you activate software with? - 5
When does license need to be redeemed by? - 60 Days After Purchase
Does it include updates? - Yes, minor updates
Terms
Valid to new users only
Instant account activation upon purchase
Account must be activated within 60 days
All prices are in US Dollars (USD)