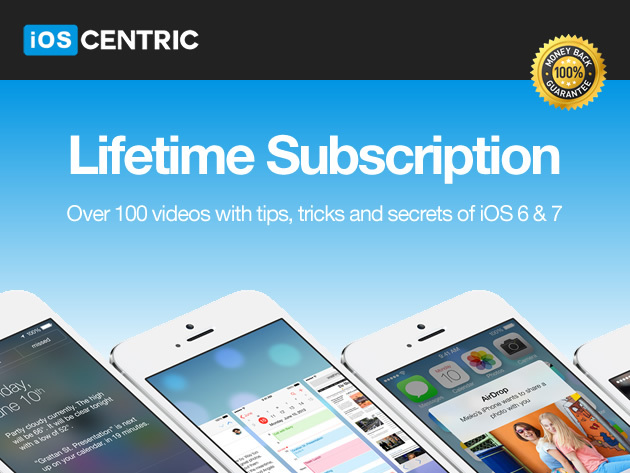 Learn Everything About iOS 7 & Beyond
Sold Out
$26.99 CAD
$135.99 CAD
by iOS Centric
A Lifetime Video Subscription to iOS Centric
Description
THE GOODS
Your iPhone, iPad or iPod Touch is one of the most advanced mobile devices on the market, and you owe it to yourself to make sure you are using it to its fullest capabilities. With *lifetime access* to this learning platform of *over 100* (and growing) clear and concise instructional videos, you'll learn how to best take advantage of *all the features your iPhone, iPod Touch or iPad has to offer*.
WHY WE LOVE IT
Hopefully all you dedicated Apple fans and Android converts are enjoying *iOS 7* by now. If you haven't downloaded it yet, you can *grab it
*. Boasting a completely *redesigned user interface and tons of new features*, we're sure you've been furiously tapping away to try them all out, but why spend all that time blindly exploring? There's *at least 100 new features* in iOS 7 and Apple only details 11 on their website. With these professionally-produced *video tutorials* from iOS Centric, you can *skip the learning curve* and peer into Apple's bag of tricks for yourself. TOP FEATURES
*AirDrop File Sharing* - Share files such as photos or contacts with other iOS Devices.
*Pro Multitasking* - Switch between applications faster and dismiss multiple apps at once with certain gestures.
*Control Center Shortcuts* - This brand new feature allows you to bring up a window with various toggles and app shortcuts anywhere within iOS.
*Notification Center Shortcuts* - Redesigned and retooled, see how to optimize the notification center to increase productivity.
*New Siri Commands* - Siri's gotten smarter. It can now toggle system functions like WiFi or Bluetooth, embed search results from Google, Twitter, Wikipedia, and much more.
*Hidden Gestures* - Some features that have been around since iOS 5 that you probably aren't even aware of, learn them all including the new stuff for iOS 7.
*Photo Filters and 60 Fps Videos* - Forget Instagram, now apply photo filters directly to photos while you are taking them or after through the Photos app. There's even 60FPS video recording support.
See a list of all the lessons HERE.
MEMBERSHIP BENEFITS
*Become an iOS Guru* - Maybe you know how to send a text message or open a personal hotspot, but there are so many advanced iOS features you aren't taking advantage of.
*Lifetime Premium Support* - 
In case your issue can not be resolved by watching one of the videos, simply shoot an email to the iOS Centric support team and they'll get your problem sorted out. It's like having an Apple Store Genius on call 24/7.
*Lifetime Access & Free Updates* - 
As iOS Centric is always on the lookout for tips and hidden functionality on iOS, they're constantly updating their video library, and you get access to updates whenever discoveries are made or new firmware versions are released.
*Online Access* - All of iOS Centric's videos are only available for viewing on their website. If they decide to release a downloadable version in the future, you will receive it free of cost.
THE PROOF
"Wow, what can I say? I thought I knew a lot about my iPhone and iPad, but boy was I missing out. After watching iOS Centric's easy to follow videos I increased my productivity and learned a lot of things I didn't think was possible on both my devices." - Jonathan Emmuel "I wouldn't consider myself to be a 'noobie' to iOS, but considering how cheap iOS Centric's membership is, I thought I would at least give it a go and I was indeed glad I did. I ended up learning a TON of things I never knew was even possible on my iPhone and shocked my friends with some of the things I was doing." - Alicia Jane
Terms
30-day refund policy.
Subscription includes free updates for life.
This a digital subscription that immediately redeemable upon purchase.
Upon purchase, follow the redemption instructions located in your account to activate your subscription.